Managing Facebook pages all day long to get in touch with potential customers is sometimes a time-consuming task which requires a lot of great effort. But hiring someone to manage them can be extremely expensive. Fortunately, SociBot has been launched to simplify all your problems.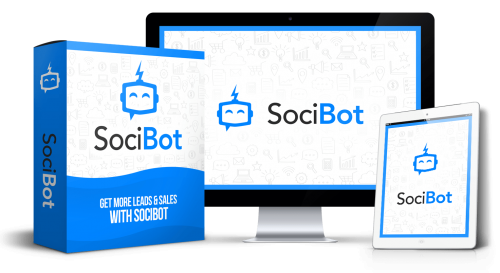 September 15, 2017 / / —
SociBot is one-click software that claimed to get people traffic, leads and save them countless work hours with its fantastic features. With this software, users can have full control on their Facebook page including responding messages/comments, building a potential list total on autopilot.
See the demo of SociBot soft here
SociBot will turn users' fan page into an automatic marketing machine and convert their visitors into customers.
Once using SociBot, people will be able to build a list of prospective customers who engage with their Facebook posts. It also allows users to message directly to these customers to sell their products/services.
The next feature provided is that it allows users to import those who have messaged their page into a list which users can mass message just like an autoresponder. A button generator tool included enables users to place a button on their site, landing page or blog that once being clicked, the Facebook Messenger window will be opened, so that potential customers can message users directly.
With SociBot software, users can program the chat box to ask their visitor some certain questions which can be programmed with specified answers. This way will lead onto the customer getting an automatic response.
One of the best parts of this product is that it gives users the ability to eliminate all spam or nasty comments on their Facebook fan page immediately so that nobody can see them.
More powerful features of SociBot software can be found on their official site when clicking in here.
Anyone even a beginner can use SociBot to get results in their business as it was created to be a newbie friendly method. It requires users no special skills or relevant experience to take advantage of it. Besides, people do not have to download or install anything to get started since it is entirely hosted in the cloud.
Equipped with multiple features, SociBot helps its users manage everything on their Facebook page 24/7. The creators want to make sure that their users will not miss any message or comment of prospects so that once someone leaves their messages or comments, SociBot will respond them automatically.
Now with this fantastic software, people do not have to worry about missing out important events. As a result, they will be able to grab visitors' attention and get more traffic as well as leads.
All in all, SociBot software is a very powerful platform that comes loaded with a lot of beneficial tools that allow its consumers to build their own email list, Facebook Messenger list with the ability to contact all the engaged people direct into users' Facebook Messenger on autopilot.
For more specific detail, you can see SociBot review and discount.
Contact Info:
Name: Gerald I. Smedley
Email: support@crownreviews.com
Organization: Uzumaki & Assistants Corp.
Address: 1176 Lowndes Hill Park Road
Phone: 415-277-4030
Source URL: https://marketersmedia.com/socibot-has-been-launched-respond-to-any-private-message-or-comments-received-on-facebook-total-on-autopilot/239727
For more information, please visit https://crownreviews.com
Source:
Release ID: 239727